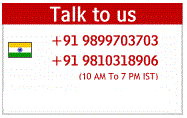 Customised Software Development India
---
Snowebs offer customised application development from India at low cost
Customised Software Developemt in India needs no explanation - India has always been center of attraction for customised application software development at low cost. Snowebs (INDIA) has its Software Development Centre at NOIDA (near to Delhi), with state of the art infrastructure, a team of dedicated professionals who work hard to make your business processes simple. Snowebs is developing customised software since 2001 and have always delight it's customers with high end software solution, which is developed keeping all requirements of customer as a major focus.
Snowebs can provide you with an end-to-end customised software development that will cover detailed analysis, advice, software development, testing, installation, and training of a specific custom-written software.
Snowebs can write small pieces of code that will make your business just that little bit easier.
Snowebs can research and advise you on software already available in the marketplace that will meet your needs. In doing this, you may save significant amounts of time and money in software development.
In fact, no matter what your software development needs, Snowebs can help you achieve your goals.
Snowebs is serving it's clients in various part of India like Delhi, NOIDA, Ghaziabad, Gurgaon, Chandigarh, Lucknow, Gujarat whio have trusted Snowebs for their software needs.


Just write to us or contact us with your query and allow us to simplify you business.

Quick Navigation